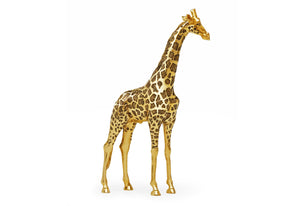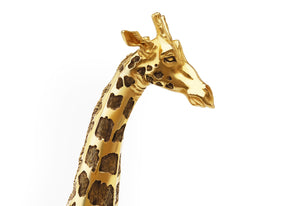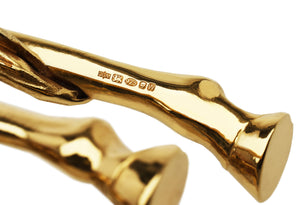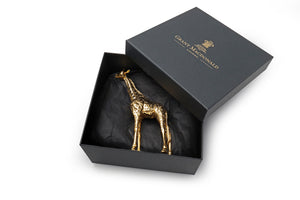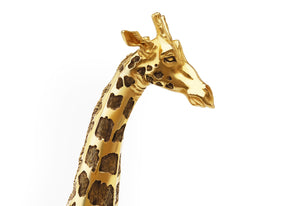 Punu Rii | Rothschild's Giraffe for TUSK
Grant Macdonald Silversmiths are proud to support the work of the charity Tusk whose patron is HRH The Prince of Wales. Tusk is a dynamic and pioneering organisation with over twenty five years of initiating and funding conservation, community development and environmental education programmes across Africa.
Named after the city in Uganda where one of the last Rothschild's giraffe habitats exists, 'Punu Rii' is hand crafted in sterling silver and 24 carat gold plate with hand painted lacquer 'spots' to bring this piece to life.
Whilst all giraffes are now classified as endangered species, the Rothschild's Giraffe is extremely special - the most endangered species of giraffe on the planet, with a population of less than 2,500. Threatened by habitat loss and poaching, Tusk has helped to reintroduce these elegant herbivores to parts of their former range in Kenya, and is working to restore the habitat and wildlife in Murchison Falls National Park, which is home to a large population of around 900 Rothchild's giraffes.
This collection of animals is handmade from sterling silver, the detailing is what brings these unique masterpieces to life.
Details:
Limited edition of 25 hand engraved and painted
Length 10cm Width cm Height 19.5cm
Hallmarked by the London Assay Office who have been testing the purity of metal since 1327
20% from the sale of each piece will be donated to Tusk to support this vitally important conservation work.
Please note each piece is unique with hand painting and finishing.

All prices include VAT at 20%
For assistance call +44 (0)20 7803 0464.
If you would like to discuss payment options, please call us.
Standard Delivery: 5- 10 working days.
Free worldwide delivery on all orders over £250.
Please see our delivery & returns information in the legal section